Sydney Aiello, a survivor of the Parkland shooting, has passed away.
According to CBS Miami on Thursday, the Marjory Stoneman Douglas High School alum's mom, Cara, said her daughter died by suicide last weekend. (Her GoFundMe page said she passed away on Sunday, March 17, 2019.)
Related: See How The Parkland Students Are Reacting To Another School Shooting!
Cara said her daughter was on campus the day of the shooting, but was not in the Freshman Building. Though Sydney survived, her close friend, Meadow Pollack, did not.
Per Aiello, Sydney struggled with survivor's guilt and was recently diagnosed with post-traumatic stress disorder. When she attended college, the teen had trouble taking classes because she was afraid of being in a classroom.
Reportedly, she was often sad, but could never ask for help.
Despite her passing, Sydney was described as a vibrant young woman who was focused on her grades, and was a joy to be around. Additionally, the young woman loved yoga, and wanted to dedicate her life towards helping others.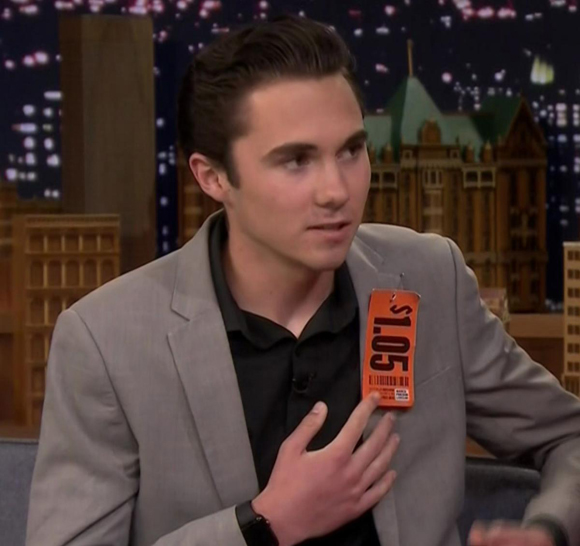 Parkland shooting survivor and March For Our Lives cofounder, David Hogg, was recently accepted to Harvard University. / (c) NBC/WENN
On Wednesday, a GoFundMe page — created by Brett and Blair Israel, family friends, and the Aiello family — was set up to help Sydney's family pay for her funeral and other expenses.
According to the website:
"Sydney Aiello was born on January 27th, 2000. She was welcomed into this world by her loving family: her parents Cara and Joe, and her brother Nick. Sydney spent 19 years writing her story as a beloved daughter, sister and friend to many. She lit up every room she entered. She filled her days cheerleading, doing yoga, and brightening up the days of others. Sydney aspired to work in the medical field helping others in need. On March 17th, 2019 Sydney became the guardian angel to many. It was a privilege to have you in our lives. Sydney, we will miss you and always love you. May you find peace in His arms. The funds will be given directly to the Aiello family to honor their daughter. Thank you."
You can donate HERE.
Ryan Petty, whose daughter Alaina died in the shooting, told the publication that he worries more traumatized Parkland teens will take their own lives.
"It breaks my heart that we've lost yet another student from Stoneman Douglas… My advice to parents is to ask questions, don't wait."
To prevent other deaths, Petty said there are questions one can ask others who are struggling with suicidal thoughts.
"Some of the questions that need to be asked are – do you wish you were dead and not wake up? Second question — have you had thoughts of killing herself?"
On February 14, 2018, a gunman opened fire at the Florida high school, killing 17 students and staff members, and injuring 17 others.
The assailant confessed to being the perpetrator, and was charged with 17 counts of premeditated murder, and 17 counts of attempted murder.
The Parkland shooting is the deadliest high school shooting in United States history.
If you or someone you know is considering suicide, please contact the National Suicide Prevention Lifeline at 1-800-273-TALK (8255).
[Image via
GoFundMe
.]
The post Parkland Shooting Survivor Sydney Aiello Dies By Suicide appeared first on Perez Hilton.
Read more: perezhilton.com