Lori Loughlin is speaking out about her alleged role in that wild college admissions cheating scandal… kind of.
The 54-year-old actress was spotted by TMZ while leaving a yoga class in El Lay on Saturday, and the cameraman quickly ran up to the Fuller House star to ask about what's on everybody's mind: what were you thinking, Rebecca Donaldson?!?!
Related: Kimora Lee Simmons Shades Lori Loughlin Over Daughter's Acceptance
Ever the classy and polite professional, Loughlin demurred when asked about the admissions controversy and the allegations surrounding her and husband Mossimo Giannulli, telling the cameraman (below):
"I'm sorry, I can't talk to you. You can follow me around all day if you want, but I just can't comment right now. But thank you for your time."
Understandable! Not a great quote for a story (ha!), but sound advice, most likely from a smart attorney!
She then remained remarkably calm when the cameraman went **there** and asked about prison — and her embattled family — saying (below):
"Are you afraid of going to prison? Do you think you'll re-establish your relationship with your daughters?"
Whoa. Talk about cutting right to the heart of it!
But again, Loughlin took the high road (and the quiet road), responding with (below):
"You have a beautiful day, thank you so much, thanks honey."
Well then!
Clearly, there's not much to say here as the pair has likely been advised by counsel to keep their mouths shut. The allegations are making considerable noise in that void, though; as you'll recall, Loughlin and Giannulli are accused of spending $500,000 to bribe officials into helping their daughters, 19-year-old Olivia Jade and 20-year-old Isabella Rose, gain admission to the University of Southern California.
Related: Olivia Jade Has A Brand Trademark Tossed Out… Due To Poor Punctuation!
Court docs claim both girls were admitted as (phony) crew recruits as part of the alleged bribe, even though it didn't appear that either girl had ever rowed crew in any competitive fashion before in their lives.
And it's not just Aunt Becky who's feeling the heat.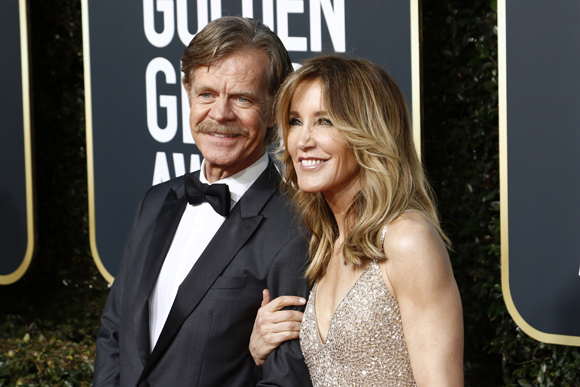 Felicity called Bill her "partner in crime" in a throwback Twitter post last month. Seriously. / (c) Regina Wagner/Future Image/WENN
Felicity Huffman (pictured above with husband William H. Macy) is also implicated in the scandal, accused of shelling out $15,000 in bribes to help one of the couple's daughters not only get more time to take the SAT, but also to allegedly have a proctor surreptitiously correct the girl's answers after the test.
Yikes!!!
Related: Felicity Steps Out Publicly With Daughter Amid Scandal Fall-Out
As for Loughlin and Giannulli, the actress and fashion designer are both scheduled to appear in front of a judge again on Wednesday, where they will have their next court hearing about felony charges of conspiracy to commit mail fraud and honest services mail fraud.
The Feds coming after Aunt Becky… it's still wild to think about, isn't it?! What do U think about this whole admissions scandal, Perezcious readers?? How do U think it'll end up playing out?!
Share your thoughts with us in the comments section (below)!
[Image via
WENN
]
The post Lori Loughlin Breaks Her Silence On College Admissions Scandal — And The Possibility Of Going To Prison! appeared first on Perez Hilton.
Read more: perezhilton.com